Spring Cleaning/Groomer Appreciation Luncheon May 14
May 14 @ 9:00 am

-

4:00 pm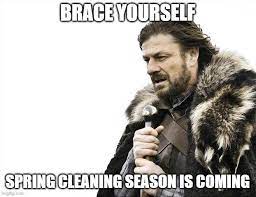 Our next club meeting is Saturday, May 14 and its not going to be a typical meeting day at the clubhouse.  We are going to conduct business as usual with regards to the monthly meeting, but in addition we are going to do some spring cleaning of the building and grounds, as well as maintenance on the grooming equipment before it begins its long off-season break. In the afternoon we will be having a late lunch for the groomer drivers on behalf of the Jordan Valley Trails Council and their families, to thank them for their efforts this past season on the trails.  Although the season and the conditions were not the best, they volunteered their time in the seat, working with what mother nature provided, to make the trails as enjoyable as possible for visitor and member alike.  The schedule for the day is as follows:
9am Spring cleaning begins with some coffee & doughnuts. Some jobs on our to-do list include:

Clean & inventory cold storage both in building and shed
Grounds cleaning (raking, burning old firewood, etc)
Troubleshoot electrical issues with outdoor lighting for sign
Paint and update outdoor information board
Clubhouse cleaning (windows, floors, etc)
Maintenance on Piston Bully
Trickle charger mounted on small John Deere tractor
Install Geotech material and spread gravel for storage of tractor implements
Stage implements on new gravel pad

12pm monthly club meeting
2pm lunch for all in attendance as well as groomer drivers & families. Club will provide hot dogs, sloppy joes, chips, brownies & assorted beverages.